Epidemic prevention experts visit HK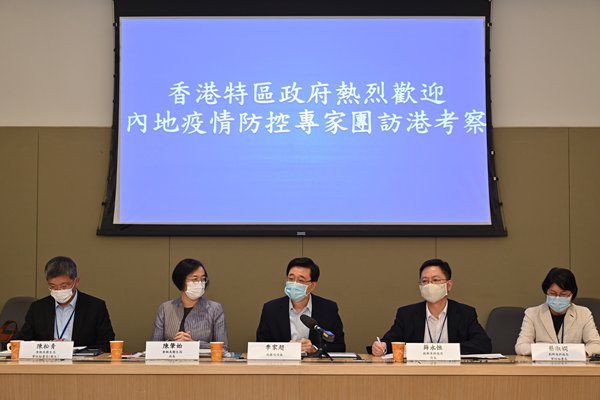 A delegation of Mainland epidemic prevention and control experts arrived in Hong Kong today for a four-day visit to learn about the city's anti-epidemic efforts and measures.
The Mainland expert delegation is organised by the Hong Kong & Macao Affairs Office of the State Council (HKMAO) and the National Health Commission.
The delegation members include epidemic prevention and control experts from the National Health Commission, Guangdong Province, Shenzhen and Zhuhai. The HKMAO and the Liaison Office of the Central People's Government in the Hong Kong Special Administrative Region are also represented.
Upon their arrival in Hong Kong, the delegation attended a briefing arranged by the Hong Kong SAR Government.
Welcoming the delegation at the briefing, Chief Secretary John Lee expressed gratitude to the central government for its support and care towards Hong Kong's efforts in preventing and fighting the COVID-19 epidemic.
Mr Lee explained that the expert delegation's visit is an important follow-up to the meeting on anti-epidemic work of the Mainland and Hong Kong on September 26 and the video conference exchange between them on November 2.
He said the Hong Kong SAR Government will continue to work towards the goal of zero infection and guard sternly against the importation of cases and the resurgence of local infections.
It will continue to strengthen and put forward various anti-epidemic measures in accordance with the principle of joint prevention and control to foster favourable conditions to press ahead the resumption of quarantine-free travel between the Mainland and Hong Kong in a gradual and orderly manner, he added.
From November 21 to 23, the Mainland expert delegation will visit local institutions and facilities related to anti-epidemic work and meet relevant personnel to exchange views and share experiences.