HK's strengths promoted at webinar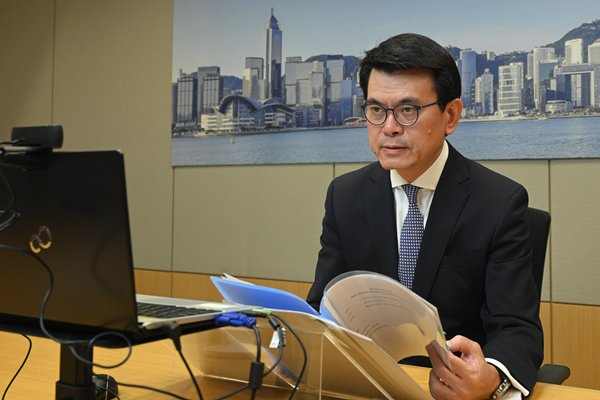 Secretary for Commerce & Economic Development Edward Yau attended a webinar today assuring participants that Hong Kong's business environment remains favourable and vibrant.
At a webinar of the 2021 World Alliance Forum, Mr Yau said with the implementation of the National Security Law and improvements to the electoral system, Hong Kong is back on the right track of "one country, two systems", with developments characterised by safety, security and stability.
Mr Yau pointed out Hong Kong's recent achievements, such as being ranked the world's sixth largest merchandise trading economy in terms of total merchandise trade value last year, and being first in Asia and second worldwide in the World Digital Competitiveness Ranking 2021.
Additionally, in the first year since the National Security Law's implementation, IPO funds raised in Hong Kong increased by more than 50% compared with the previous 12 months.
The city also saw record highs this year in the number of start-ups and business operations with parent companies elsewhere.
"Facts speak louder than words. These achievements signify unequivocal affirmation of Hong Kong as one of the most competitive economies in the world," Mr Yau said.
The commerce chief also updated participants on Hong Kong's vibrant innovation and technology ecosystem.
He noted that Hong Kong is the first in the world regarding clinical data being recognised by concurrent medicine regulatory authorities in Mainland China, the US and the European Union.
Held in San Francisco, the World Alliance Forum is organised annually by the Alliance Forum Foundation with a focus on the commercialisation and industrialisation of new technologies in healthcare fields.