CE praises eco-achievers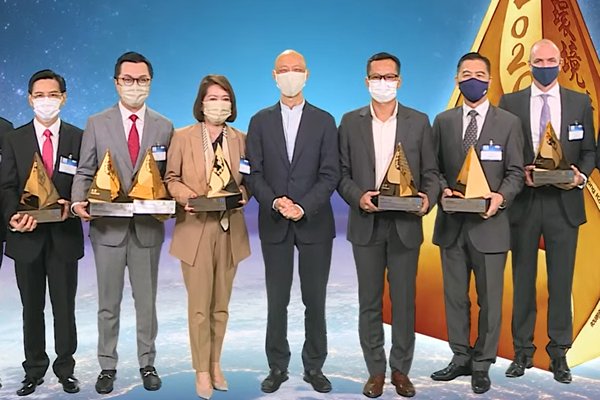 Chief Executive Carrie Lam hailed the winning companies and organisations of the 2020 Hong Kong Awards for Environmental Excellence (HKAEE) via a video at the event's presentation ceremony held today.
Winners of the 2020 Hong Kong Green Innovations Awards and corporations certified as Hong Kong Green Organisations in 2020 were also recognised for their green management practices and their contributions to environmental protection.
Congratulating the companies and organisations, Mrs Lam said she appreciated their dedication in promoting environmental protection despite the economic downturn under the COVID-19 pandemic.
She also called on more companies and organisations to participate in the HKAEE and the Hong Kong Green Organisation Certification (HKGOC), and work with the Government to promote low-carbon transformation practices in all sectors while heading towards carbon neutrality.
Officiating at the ceremony, Secretary for the Environment KS Wong said the Government has just announced Hong Kong's Climate Action Plan 2050, covering net-zero electricity generation, energy saving and green buildings, green transport, and waste reduction, the four major decarbonisation strategies that need community participation and green innovation.
Pointing out that the extreme climate in recent years reflects the pressing need to combat global warming, Mr Wong said Hong Kong will proactively complement the country's development while contributing to its global carbon reduction goal.
The presentation ceremony was held in a hybrid mode, on-site at the Convention & Exhibition Centre and online.
In 2020, a total of 47 organisations won the HKAEE gold, silver or bronze awards, and 159 received certificates of merit.
The HKAEE and the HKGOC are jointly organised by the Environmental Campaign Committee and the Environmental Protection Department, along with other organisations and chambers of commerce.
The 2021 edition of HKAEE is now open for applications while the HKGOC accepts applications all year round.
Visit the dedicated website or call 2788 5903 for further information.