Elector registers to be published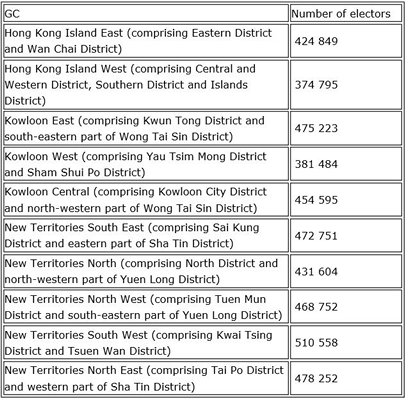 The 2021 final registers of electors for geographical constituencies (GCs) and functional constituencies (FCs) will be released on October 29, the Registration & Electoral Office announced today.
Registered electors can log in to the Online Voter Information Enquiry System or call the election hotline on 2891 1001 to check their own registration particulars.
The final register contains 4,472,863 registered electors for GCs and 219,254 registered electors for FCs, representing net increases of about 5,500 and 300 electors compared to the provisional registers. The distribution of electors for the 10 GCs is shown in the attachment. 
The Registration & Electoral Office said the aforesaid figures reflect the follow-up actions taken by it, based on the latest information available after the publication of the provisional registers.
It mainly includes people who were listed on the omissions lists and returned reply slips in time to resume their voter registration status, and those who gave the necessary supplementary information.
With the approval of the Revising Officer, they have been included in the final register, the office added.
The Registration & Electoral Office also said electoral records of about 705,000 electors of GCs have been updated for the compilation of the final registers of electors.
The final registers for GCs and FCs will be made available for inspection by specified parties from October 29 at the two offices of the Registration & Electoral Office at 10/F, Harbour Centre in Wan Chai and 13/F, Kowloonbay International Trade & Exhibition Centre.
Eligible organisations and members of the public may make appointments to inspect the registers by calling 2891 4082 or 2891 2070 from tomorrow on a first come, first served basis.