Jab service further enhanced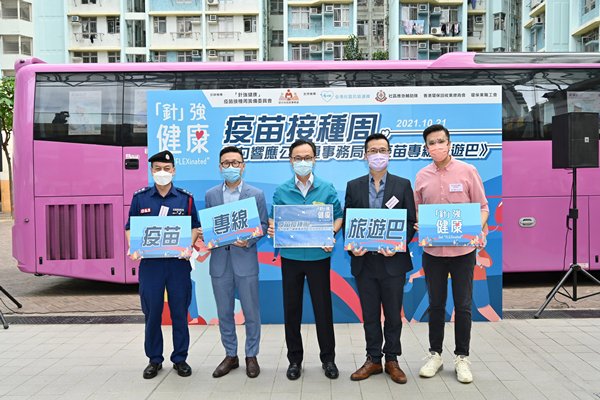 Secretary for the Civil Service Patrick Nip today visited Sham Shui Po, Wan Chai and Wong Tai Sin to appeal to citizens in particular the elderly to receive COVID-19 vaccination for better self-protection.
He first inspected the first departure operation of the dedicated vaccination transport service at Fu Cheong Estate in Sham Shui Po.
As some housing estates do not have suitable places for vaccination services, today the Government started a trial run of a scheduled transport service, which offers residents, particularly elderly people, a round trip between designated housing estates and a nearby community vaccination centre, so that they can get vaccinated.
Mr Nip said: "Reaching out to the community and focusing on the elderly is a strategic priority of the COVID-19 Vaccination Programme at this stage. A one-stop service covering a health talk, medical consultation and COVID-19 vaccination has been provided across the 18 districts in the city and some vaccination activities are also under preparation.
"Given the threat posed by mutant strains, vaccination is the best way for people to protect themselves. People who are suitable for COVID-19 vaccination should get vaccinated as early as possible to reduce their risk of falling seriously ill and dying should they get infected."
Meanwhile, the Government's outreach vaccination team will provide Sinovac vaccination services to the public at Fung Ming Hall in Wong Tai Sin Temple today and tomorrow. Mr Nip showed up to show his support to seniors receiving vaccinations.
He also attended a vaccination event for elderly citizens in Wan Chai at Wan Chai Activities Centre.
Additionally, from 10am to 1pm and 2pm to 4pm this Saturday, the outreach team will provide BioNTech vaccination services for Yuen Long residents at YOHO Mall I's main plaza. Call 5193 0375 or register for vaccination on the spot.