Public urged to get flu jabs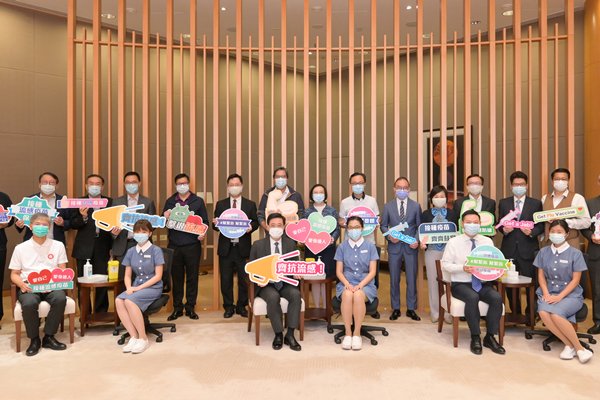 Acting Chief Executive John Lee today received the seasonal influenza vaccination (SIV) and called on citizens to get vaccinated early to prepare for the winter influenza surge.
Joined by principal officials and under secretaries at the event, Mr Lee said: "Influenza can cause not only serious illnesses in high-risk individuals but also infection in healthy people. Vaccination is one of the most effective ways to prevent seasonal influenza and its complications.
"Receiving SIV and getting COVID-19 vaccination are both important. I call on the public, especially the high-risk groups including elderly people, to receive SIV early for additional protection to their personal health."
Also present was Secretary for Food & Health Prof Sophia Chan who explained why citizens should get their flu jabs as soon as possible.
"Based on past epidemiological patterns, the winter influenza season usually starts in January. However, the exact time of arrival cannot be predicted.
"As it takes about two weeks to develop antibodies, I appeal to the public to receive vaccination early."
Except those with known contraindications, all people aged six months or above are recommended to receive SIV, she added.
Apart from vaccination, maintaining good personal and environmental hygiene, in particular using surgical masks properly, performing hand hygiene, having a balanced diet, working out regularly, not smoking and avoiding alcohol consumption are also effective ways of preventing seasonal influenza, the Government noted.
The Government's 2021-22 vaccination schemes are already in place. Visit the Centre for Health Protection's website or call 2125 2125 for details.