CE commends paralympic athletes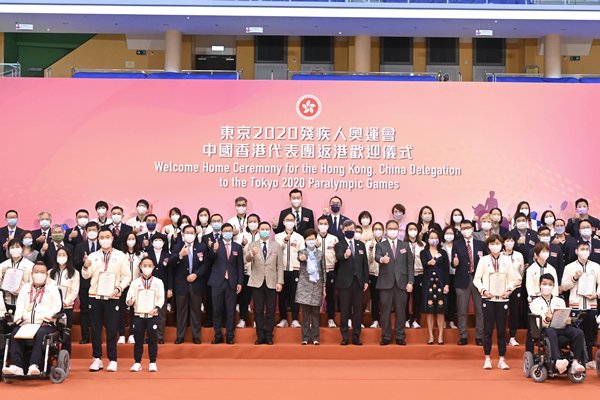 The Government hosted a welcome home ceremony at Ma On Shan Sports Centre today to hail the Hong Kong athletes who participated in the Tokyo 2020 Paralympic Games.
Chief Executive Carrie Lam officiated at the ceremony and presented certificates of commendation to the homecoming athletes.
Mrs Lam said the contenders with disabilities had devoted great effort and endured arduous training over the years to qualify for the Tokyo 2020 Paralympic Games.
She praised them for their strong will and hard work in the competitions that fully demonstrated their admirable sportsmanship and perseverance.
The Chief Executive said the Government will continue to allocate more resources to promote the sports industry, benefitting athletes with disabilities and other athletes.
Mrs Lam hopes that these measures will nurture more elite athletes for Hong Kong to bring glory home in international competitions.
The Games was held between August 24 and September 5 in Tokyo, Japan.
A total of 24 Hong Kong athletes took part in eight events, namely archery, athletics, boccia, equestrian sport, swimming, table tennis, wheelchair fencing and badminton, which was a newly added sport in this Games.
After fierce competition, the Hong Kong athletes claimed a total of five medals, comprising two silver medals in the events of boccia and badminton and three bronze medals for table tennis, boccia and badminton.