Students presented with I&T awards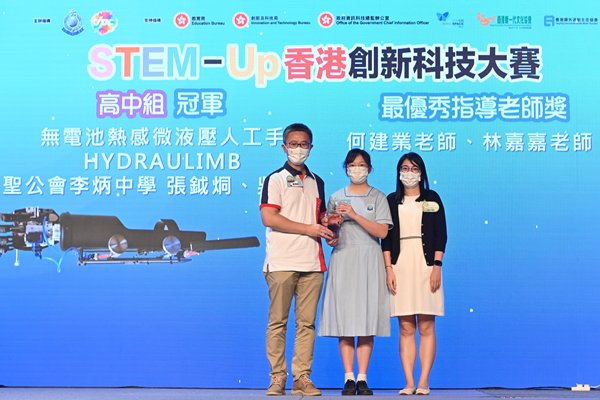 The award presentation ceremony of the Junior Police Call's first STEM-Up HK Innovation & Technology Competition was held at the Convention & Exhibition Centre today.
Addressing the ceremony, Commissioner of Police Siu Chak-yee said the Chief Executive's 2021 Policy Address proposed a number of innovation and technology-related initiatives, including promoting research and development and attracting talent.
The National 14th Five-Year Plan also indicated clear support for Hong Kong's development into an international innovation and technology (I&T) hub, which fully affirmed the city's important role in advancing the country's development in science and technology.
The competition aims to unleash young people's potential in I&T, nurturing them to become social leaders.
Mr Siu was pleased to note that many of the entries adopted the principles of creativity and functional design, with a number of them able to protect the public and facilitate policing work.
He added that the force has all along been keeping pace with society's rapid development and will continue to strive for innovation to enhance its work.
More than 1,000 students from 160 schools took part in the competition. Over 90 awardees were presented with 75 awards.
Some of the winning entries will be displayed from tomorrow until October 29, from 10am to 10pm daily, at Times Square's covered piazza in Causeway Bay. Admission is free.