Vaccination event held for seniors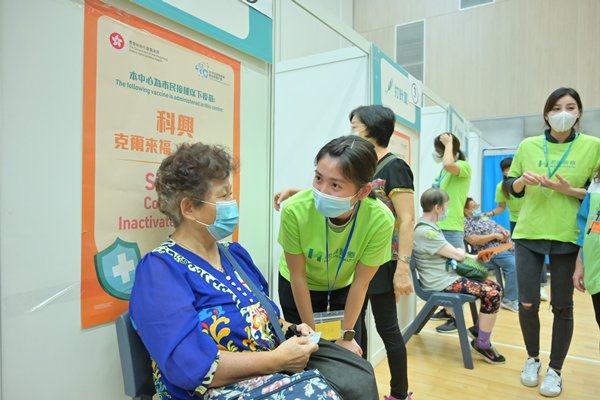 With joint efforts from local organisations in Kowloon City, 205 elderly people in the district participated in a COVID-19 vaccination event at Hung Hom Community Hall today.
The participants attended a health talk on COVID-19 vaccines while a medical practitioner was on site to administer the Sinovac jab to the seniors who opted to get vaccinated.
Secretary for the Civil Service Patrick Nip took part in the event to show his support for the elderly.
Mr Nip said: "A one-stop service covering a health talk, medical consultation and on-site COVID-19 vaccination has been provided in various districts. The vaccinations were smooth and safe and some of the vaccine recipients were in their 90s.
"Under the threat posed by mutant strains, elderly who are not vaccinated will be subject to the extremely high risk of getting seriously ill and death from COVID-19 infection," he added.
The community vaccination centres will continue to provide the first dose of the vaccination service to the public this month and next month.
Eligible people who wish to receive vaccination can collect same-day tickets without prior bookings as long as there are quotas for vaccination at the centres.
Meanwhile, COVID-19 vaccination stations in Queen Mary Hospital, Queen Elizabeth Hospital and Tuen Mun Hospital have commenced operation to enable patients visiting the hospitals for follow-up appointments and visitors to receive vaccination without prior booking.