Sophia Chan inspects health centre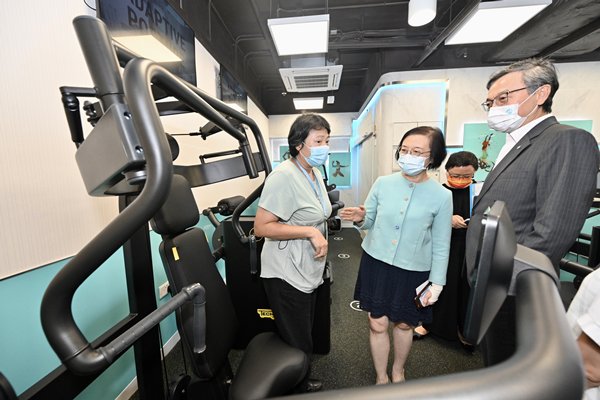 Secretary for Food & Health Prof Sophia Chan today toured the Core Centre of Sai Kung District Health Centre (DHC) Express to learn about its operation and the primary healthcare services it provides.
Prof Chan said the Government is progressively enhancing district-based primary healthcare services by setting up DHCs in all 18 districts.
Before full-fledged DHCs come into service, the Government has been in the process of setting up the interim DHC Express in 11 districts since September, with the Sai Kung DHC Express being the first one.
Upon assessment by the care co-ordinators, members of the Sai Kung DHC Express can join health programmes designed by the physiotherapists and do exercise by using fitness equipment there.
The goal is to help the members develop a healthy lifestyle at an early stage, enhance self-care capacity and reduce the risk of falls.
Prof Chan noted that the core centre will enhance collaboration with the Hospital Authority, the Department of Health and the Social Welfare Department in health promotion to local residents with a view to reducing avoidable re‑admission to hospitals and rectifying the situation in which accident and emergency service is regarded as the first point of contact when seeking medical consultation.
Moreover, it will help patients better manage their health conditions by way of providing community rehabilitation services.
She also expressed that she expects the DHC Express will continue to play a part in encouraging residents in the Sai Kung and Tseung Kwan O areas to get vaccinated against COVID-19.
During the visit, Prof Chan gave encouragement to the serving staff. She also chatted with users of the DHC Express services and listened to their views. She was pleased to note that the services have been well received by the public.
The Sai Kung DHC Express is operated by Haven of Hope Christian Service with its core entre in Po Lam Estate, Tseung Kwan O which commenced service on September 1.
The other service points, covering King Lam Estate, Sheung Tak Estate, Kin Ming Estate, Hau Tak Estate and Tsui Lam Estate, will be opened progressively between October and January next year.