Vaccination events held for seniors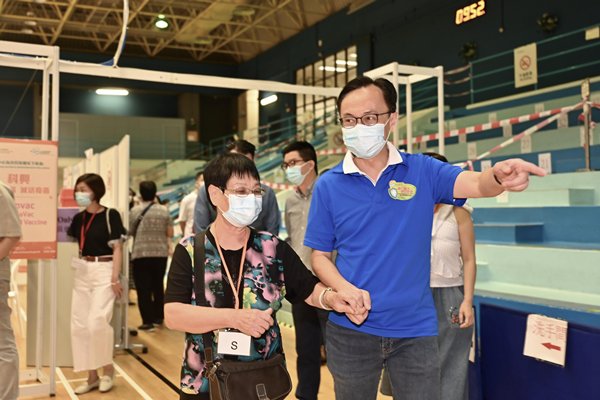 COVID-19 vaccination events for the elderly in Kwun Tong and Tsuen Wan were held today to enable them to get the jab through a one-stop service covering a health talk, medical consultation and vaccination.
Around 150 people took part in the Kwun Tong vaccination event at Kai Yip Community Hall.
After the event, designated vehicles transferred residents who opted for the Sinovac jab to the community vaccination centre at Kowloon Bay Sports Centre and those who wished to receive the BioNTech vaccine to Hiu Kwong Street Sports Centre.
Meanwhile, the seniors' jab event held at Tsuen Wan Sports Centre attracted about 140 participants.
The Government's outreach vaccination team provided the service to those who chose the Sinovac vaccine at a temporary vaccination area at the sports centre.
Those who opted for the BioNTech vaccine were taken by pre-arranged transport to the community vaccination centre at Tsuen King Circuit Sports Centre.
Secretary for the Civil Service Patrick Nip attended the events to support the elderly and thanked organisations and leaders in the community for their assistance in the promotion of vaccination for senior citizens.
So far, five district offices have organised vaccination events for the elderly in Sham Shui Po, Yau Tsim Mong, Central & Western District, Kwai Tsing and Sha Tin.
Eligible people who want to receive the jab can collect same-day tickets from 21 community vaccination centres under the COVID-19 Vaccination Programme.