Welfare chief visits resource centre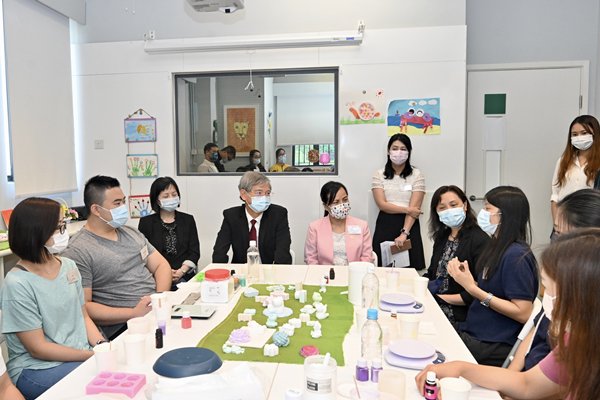 Secretary for Labour & Welfare Dr Law Chi-kwong today visited Heep Hong Society's Sandy Bay Parents Resource Centre in Pok Fu Lam to learn more about the community support services for parents, relatives and carers of people with disabilities.
Dr Law first toured the centre's facilities, including an indoor playroom specially designed for training children's physical strength and body co-ordination skills.
He received a briefing on how the centre, now providing services to more than 300 families, supports relatives taking care of their family members with disabilities or difficulties in upbringing.
The welfare chief also visited other social adaptation facilities catering for children with special needs in the Heep Hong Society Integrated Service Complex.
Dr Law said the current-term Government has implemented a host of measures to strengthen support for carers of people with disabilities.
They included increasing day, residential, home care and respite service places as well as strengthening manpower of various centre-based and home-based services.
The Government will continue to increase service places through development projects, purchase of premises and the Bought Place Scheme for Private Residential Care Homes for Persons with Disabilities, Dr Law added.