Kowloon DC members take oaths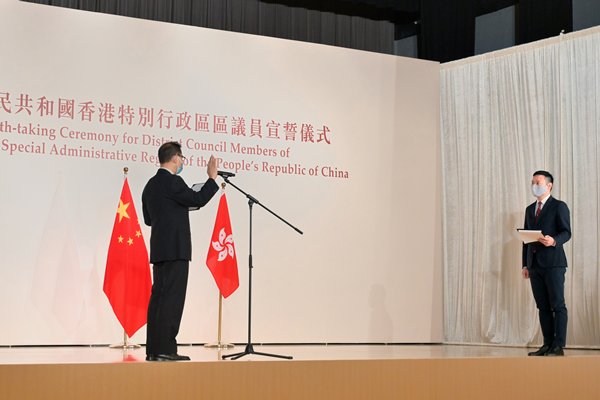 The Government today held the second oath-taking ceremony for members of Yau Tsim Mong, Sham Shui Po, Kowloon City, Wong Tai Sin and Kwun Tong district councils at North Point Community Hall.
The district councillors took oaths individually to declare that they would uphold the Basic Law and bear allegiance to the Hong Kong Special Administrative Region.
The oath taking was administered by Secretary for Home Affairs Caspar Tsui who was authorised by the Chief Executive as the oath administrator.
According to the Interpretation of Article 104 of the Basic Law by the Standing Committee of the National People's Congress, the person administering the oath has the duty to ensure that it is taken in a lawful manner.
The administrator shall also determine that an oath taken in compliance with the interpretation and the requirements under the laws of Hong Kong is valid, while an oath not taken in compliance with the interpretation and the requirements is invalid.
If the oath taken is determined as invalid, no arrangement shall be made for retaking the oath.
The oath administrator determined that the oaths taken by 45 district council members today were valid – seven in Yau Tsim Mong, eight in Sham Shui Po, 12 in Kowloon City, two in Wong Tai Sin and 16 in Kwun Tong.
Leos Lee of Sham Shui Po District Council was absent and regarded as declining or neglecting to take the oath under the Oaths & Declarations Ordinance. He should vacate his office immediately pursuant to the ordinance.
Meanwhile, as the oath administrator had doubts on the validity of the oaths taken by other ten district councillors, letters were issued to such councillors to require them to provide additional information for the administrator to decide the validity of their oaths.