Seniors join vaccination event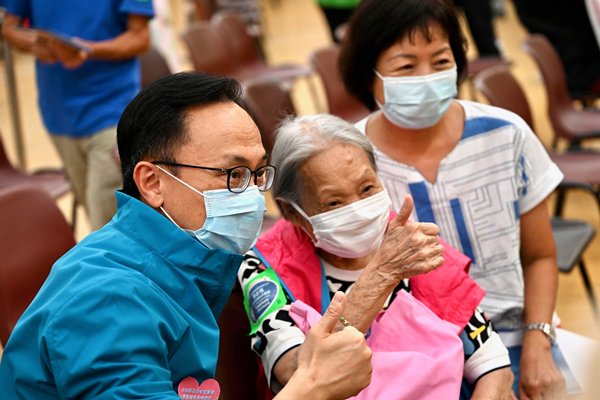 More than 360 Sha Tin District senior citizens and residents participated in a health talk and COVID-19 vaccination event for the elderly at Lee On Community Services Complex in Ma On Shan today.
The participants were offered a more convenient way to get vaccinated through a one-stop service covering a health talk, medical consultation and vaccination.
The Government's outreach team provided the vaccination service to senior citizens who opted for the BioNTech vaccine at the complex. Those who chose to receive the Sinovac jab were arranged to visit the community vaccination centre at Yuen Wo Road Sports Centre.
A walk-in service was also provided to enable people living nearby to get vaccinated as early as possible.
Secretary for the Civil Service Patrick Nip attended the event to show support for the elderly and other residents to receive the jab.
He said seniors should get vaccinated immediately in view of the comparatively higher risk for them to fall seriously ill and die if they become infected, adding that the current priority of the COVID-19 Vaccination Programme is to provide convenient vaccination services at places with easy access for the elderly.
"To take care of ourselves and our family members, we all have to understand the importance and urgency of receiving COVID-19 vaccination," Mr Nip noted.
"Each and every one of us has to do our part to encourage more people to get vaccinated in order to build a protective shield in the community."