SJ shares legal concepts with youth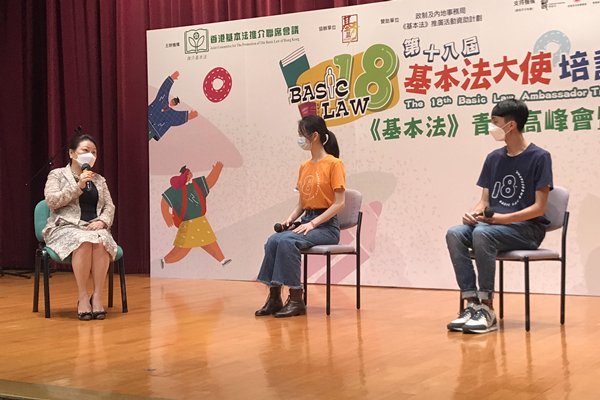 Secretary for Justice Teresa Cheng today spoke with secondary and university students about the Basic Law and national security at a youth forum.
At the session, she discussed how they should properly understand the Constitution, the Basic Law, national security and the concept of the rule of law.
Ms Cheng pointed out that the National People's Congress, as the highest organ of state power in the People's Republic of China, shall exercise powers to decide on the establishment of special administrative regions and the systems to be instituted.
She said that Article 1 of the Basic Law stipulates that the Hong Kong Special Administrative Region is an inalienable part of the People's Republic of China, meaning "one country" is the basis of "two systems".
Citing examples to illustrate traditional and non-traditional security under national security, Ms Cheng emphasised the importance of enacting the National Security Law (NSL) and improving the electoral system in the implementation of "one country, two systems".
The NSL has plugged national security loopholes that existed in Hong Kong by effectively preventing, suppressing and imposing punishment for any act endangering national security, she stated.
Furthermore, Ms Cheng explained the NSL's extraterritorial application, granting of bail and other legal matters in order to clear misconceptions in the community.
Stressing that political security is fundamental to national security, she highlighted that the improvements to Hong Kong's electoral system bring about balanced and orderly political participation as well as broader representation, ensuring the steadfast and successful implementation of "one country, two systems".
Noting there used to be suggestions that deliberate lawbreaking might be considered in order to achieve objectives, Ms Cheng strongly refuted such misinformation and urged young people to distinguish right from wrong and not to engage in any illegal activities.
She also introduced the students to the Vision 2030 for Rule of Law initiative organised by the Department of Justice and called on them to take part in the activities under the plan.
At the end of the forum, she expressed hope that the forum would enhance students' proper comprehension of the Constitution, the Basic Law, the NSL and the spirit of the rule of law.
She also invited them to promote such concepts to their peers and friends.