EAC chairman inspects polling station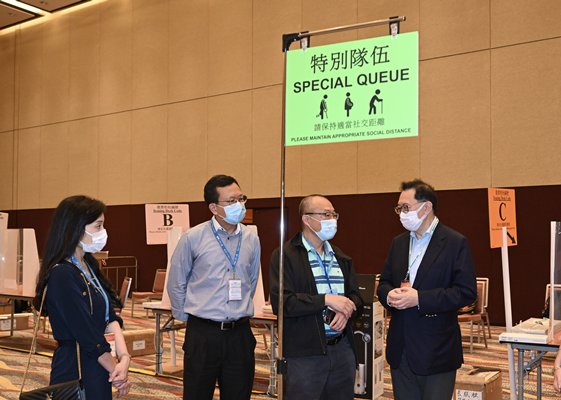 Electoral Affairs Commission Chairman Barnabas Fung today inspected the polling station and central counting station in Wan Chai ahead of the 2021 Election Committee Subsector Ordinary Elections scheduled for tomorrow.
Most of the preparatory work is nearly completed and staff will ensure that the vote counting process will be carried out smoothly, Mr Fung said after his visit to the Convention & Exhibition Centre.
He also thanked colleagues for their hard work and appealed to registered voters/authorised representatives (ARs) of corporate voters to vote.
Voters/ARs are reminded to bring their original Hong Kong identity cards to cast their votes from 9am to 6pm at the polling station specified on their poll card.
They may choose to vote around noon or in the afternoon to avoid long queues at polling stations, Mr Fund advised.
"An electronic poll register system will also be used for the first time for issuing ballot papers at the polling station, for more efficient and accurate issuance of ballot papers."
Mr Fung also explained why two queues will be set up at the polling stations for the first time.
He said people aged 70 or above, those who have difficulties standing for a long time due to physical conditions or pregnant women may join the special queue, while other voters/ARs may wait in the other queue.
Once the poll is closed, the ballot boxes will be delivered to the central counting station at the Convention & Exhibition Centre for a vote count. Candidates, election agents and counting agents may enter the central counting station's designated area to observe the count.
All election results will be announced by Returning Officers at the media centre there, Mr Fung noted.
Citizens can watch the announcement of the results at the media centre's public gallery which will provide 350 seats on a first come, first served basis. Admission will be open from 6.30pm.
In the Sunday election, 412 candidates will contest 364 seats in 13 subsectors. The election results will be uploaded to the election website.
Call 2891 1001 for enquiries.