Sophia Chan visits jab centre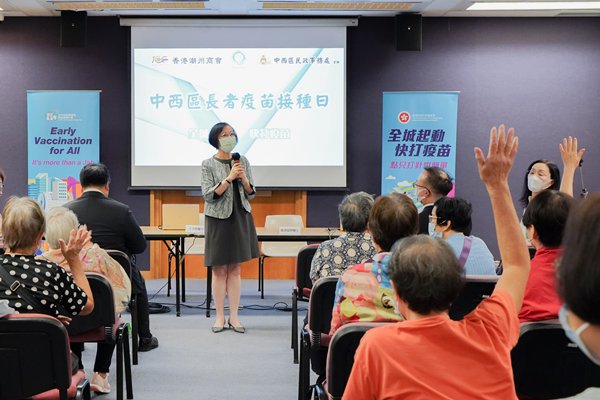 Secretary for Food & Health Prof Sophia Chan today inspected the administration of COVID-19 vaccines to the elderly at the community vaccination centre at the Hong Kong Central Library.
About 100 seniors joined a vaccination activity at the venue where doctors from the Medical Conscience held talks for them to enhance their understanding of the protection offered by vaccines.
While noting that the epidemic situation in Hong Kong is mostly stabilised, Prof Chan said the situation worldwide remains severe, particularly due to the mutant virus.
"The most worrisome members of the population right now are senior citizens, chronic patients and other immunocompromised people who face a high risk of a deteriorating condition and death once infected.
"We should not solely rely on the vaccination of younger citizens as a way to protect the elderly. The most secure and effective way is to have the elderly getting vaccinated themselves for self-protection."
In addition to the community vaccination centres and private clinics, the elderly health centres of the Department of Health, the Hospital Authority and district health centres also provide and continue to enhance COVID-19 vaccination services to the elderly, she added.
Speaking to reporters this morning, Secretary for the Civil Service Patrick Nip said the Government is organising health talks, consultations and on-site vaccinations at a district level for seniors.
"These involve local personalities to mobilise the elderly in the districts to come to the health talks and then to receive the vaccination," he added.