Policy Address session held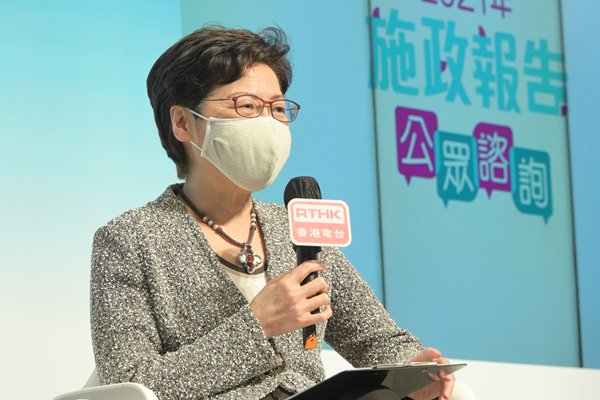 Chief Executive Carrie Lam today attended a public consultation session to listen to views and suggestions for the 2021 Policy Address set to be delivered on October 6.
The event, broadcast live by Radio Television Hong Kong (RTHK), was attended by more than 100 people in person or online. The views expressed covered Hong Kong's advantages, Hong Kong people's development in the Greater Bay Area, elderly welfare, resumption of quarantine-free travel with the Mainland, promotion of innovation and technology as well as arts and culture and talent attraction.
Participants also put forward proposals on sports facilities and transport in districts, social inclusion of different ethnic groups, national education, ageing population, smart city, youth training and environmental protection.
The session concluded the Policy Address consultation exercise launched on July 6. The Chief Executive hosted 40 sessions with more than 3,500 participants from various sectors, six of which were held with students, young people and members of the public.
"I am grateful for the participation of various sectors in the community in giving views for the 2021 Policy Address and the assistance of the RTHK, school-sponsoring bodies, the youth organisation and more in making arrangements for the consultation sessions.
"Following the unprecedented challenges Hong Kong has faced in the past two years, I feel from the views expressed by various sectors the hope of members of the public to have a Policy Address this year which will map out Hong Kong's future.
"I will actively consider people's views and spare no effort in working with the governing team and civil servant colleagues to respond to the aspirations of members of the public," Mrs Lam said.
People are still welcome to give their views on the upcoming Policy Address through the dedicated website and Facebook page or by calling the hotline at 2432 1899 or via email.
As of September 5, about 2,700 representations have been received via these channels.