Legal talent secondments set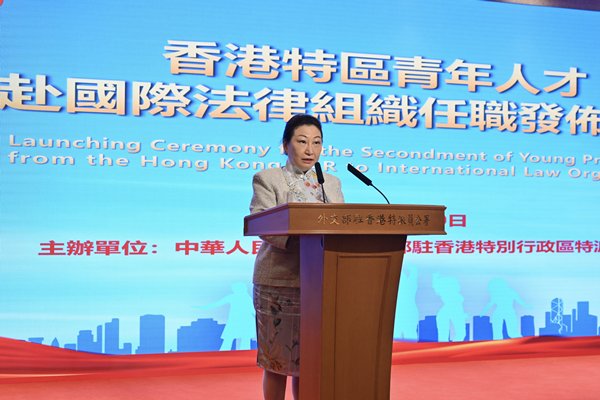 A ceremony to launch the Secondment of Young Professionals from the Hong Kong Special Administrative Region to International Law Organisations was held today.
It was hosted by the Office of the Commissioner of the Ministry of Foreign Affairs in the Hong Kong SAR to support the Department of Justice's efforts to put in place programmes to second local legal talent to international organisations.
Speaking at the event, Secretary for Justice Teresa Cheng thanked the ministry for facilitating the secondment programmes between the Hong Kong SAR and international organisations, thereby enabling local young legal talent to take part in the international arena.
"It truly reflects the care of the country towards the Hong Kong youth, while demonstrating the unique advantages of 'one country, two systems'. I also hope that young legal talent would seize the precious opportunities to gain different exposure, and proactively integrate into and contribute to national development in the future."
Ministry of Foreign Affairs in the Hong Kong SAR Commissioner Liu Guangyuan supplemented that the secondments mark an achievement of national diplomacy to the benefit of the youth and that he hopes the young talent will gain knowledge and experience by taking part in the international arena and bring glory to the country and Hong Kong.
The department noted that with the central government's staunch support and the Hong Kong SAR Government's hard work, the secondment programmes have achieved substantive progress recently.
The number of positions available is historically high and some positions are open to non-government officers, which is different from the previous programmes, it added.
Last December, the department signed a memorandum of understanding with the Hague Conference on Private International Law, under which one of its counsels and a solicitor in private practice will start a six-month secondment this month and in February 2022.
In May 2021, it signed another pact with the International Institute for the Unification of Private Law for a secondment programme that is open to legal professionals in both the public and private sectors.
In addition, an agreement was reached with the Asian Infrastructure Investment Bank in June this year for the secondment of one of the department's officers to the bank's legal department for 12 months, which started on August 23.
The department said that it will continue to explore secondment opportunities with other renowned international organisations to enable Hong Kong legal professionals to gain valuable work experience and receive training in international law.