Policy Address consultation held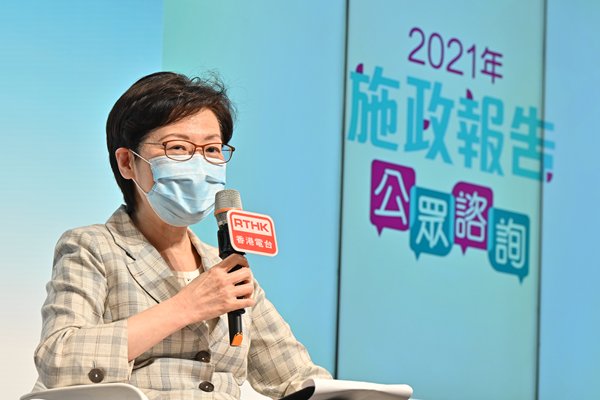 Chief Executive Carrie Lam today attended a public consultation session to listen to views and suggestions on the 2021 Policy Address set to be delivered on October 6.
The activity, broadcast live by Radio Television Hong Kong, was attended by more than 100 people in person or online. The views expressed covered land and housing, arts and culture, district development and transport, national education and arrangements for cross-boundary students.
Participants also proposed ways to enhance support for women, children, youth, the elderly, ethnic minorities and people with disabilities. Mrs Lam thanked them for taking the time on a holiday to take part in the consultation session to give their views.
"With the implementation of the National Security Law and improvements to the electoral system, Hong Kong's developments have been put back on the right track with the support of the central authorities and people are full of hope for the future.
"I encourage members of the public to continue to give their views to help me formulate the upcoming Policy Address to map out the future of Hong Kong and rebuild hope and confidence of the people."
Since the consultation exercise for the upcoming Policy Address was launched on July 6, the Chief Executive has hosted 25 sessions. The stakeholders she met included legislators, chambers of commerce, professional and non-government bodies as well as the public.
Mrs Lam will host about 10 more consultation sessions in the coming weeks to meet with different sectors and groups.