40 good citizens awarded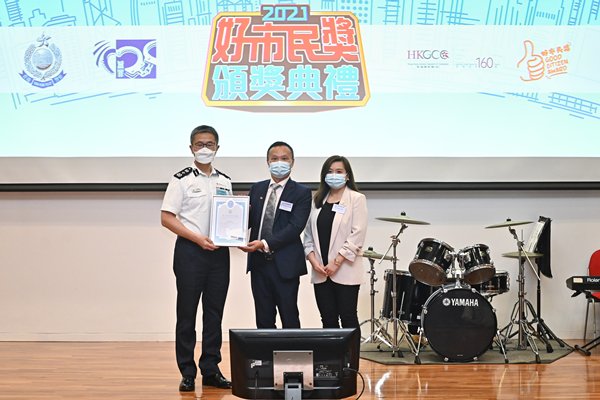 Forty citizens who helped Police fight crime were commended at the Good Citizen Award Presentation Ceremony today.
The awardees helped Police detect dozens of cases related to fraud, burglary, animal abuse and wounding. Some awardees made their contributions in life-saving.
The youngest award recipient Liu Wing-yan, 14, spotted a man secretly taking upskirt photos on a Light Rail train and immediately alerted the victim to report to Police. The man was later convicted of outraging public decency and sentenced to 14 weeks' imprisonment with a two-year suspended sentence.
Speaking at the ceremony, Commissioner of Police Siu Chak-yee praised the awardees for their law-abiding consciousness, sense of commitment and courage.
He pointed out that it was the first time for the ceremony to adopt the anti-deception theme and to launch the Good Corporate Award to commend companies which have been proactively assisting Police in preventing and investigating scams.
The force encourages corporations to provide training for their employees to enhance their capacities to guard against fraud, so that fraud reports and interceptions can be made earlier at the corporate level, Mr Siu added.
A new Good Citizen Alliance concept was also introduced, signifying that good citizens work together in fighting crime and help each other as well as promoting righteousness in the community. Police's anti-scam mascot The Little Grape also made its debut at the ceremony.
Organised by the Police Public Relations Branch, the Good Citizen Award is sponsored by the Hong Kong General Chamber of Commerce and supported by the Fight Crime Committee.