Tests in 2 restricted areas end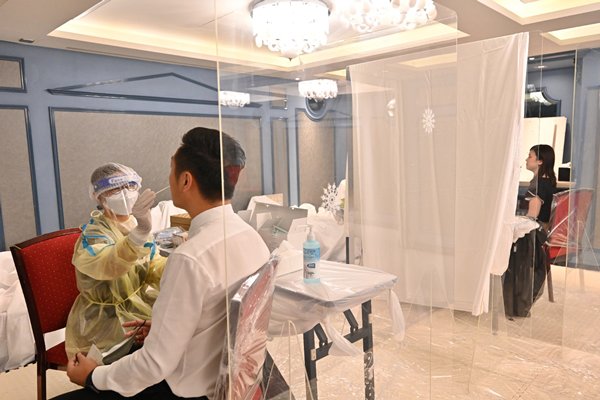 The Government announced that the compulsory testing exercises and enforcement operations for the restricted areas in Sham Shui Po and Tsim Sha Tsui finished today with no confirmed COVID-19 cases found.
It made restriction-testing declarations last night, requiring people within the two specified restricted areas to stay in their premises and undergo compulsory testing.
The restricted areas covered Block A, Tung Lo Court, 136-154 Tai Po Road in Sham Shui Po and The Luxe Manor, 39 Kimberley Road in Tsim Sha Tsui.
The Government also issued compulsory testing notices to those who had been in either area for more than two hours during the specified period to undergo mandatory testing by August 6, even if they were not in the areas when the declarations took effect.
About 600 residents were tested in the Sham Shui Po restricted area and about 130 hotel room guests in the Tsim Sha Tsui one.
In the subsequent enforcement operations, a total of about 380 people's test records were checked and 20 were found to have breached the compulsory testing requirement.
Government staff also visited around 320 households in the Sham Shui Po restricted area and about 75 rented hotel rooms in the Tsim Sha Tsui one. Some 50 did not answer the door. The people concerned are urged to contact the Government as soon as possible to arrange testing.