Patrick Nip visits AXA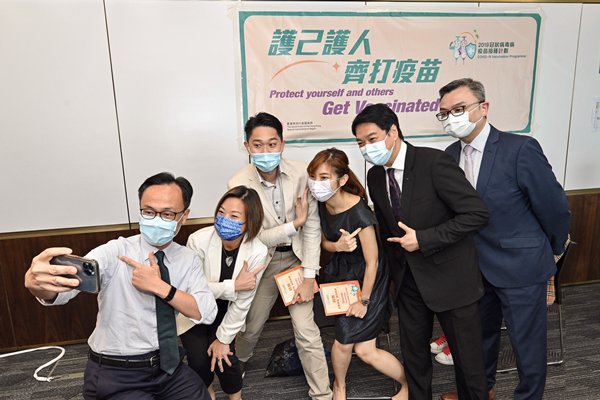 Secretary for the Civil Service Patrick Nip today visited AXA Hong Kong & Macau to view the administering of COVID-19 vaccines.
About 360 staff and agents of the enterprise will receive either a Sinovac or BioNTech vaccine during a two-day outreach vaccination service by the Government.
Mr Nip said the Government welcomes enterprises to join hands with it in promoting the Early Vaccination for All campaign and encourages their employees to support the vaccination programme to protect the health of themselves, colleagues and clients.
He also hoped that people who get vaccinated will encourage their families and friends to do the same as a way to help build an immune barrier in Hong Kong.
He called on the public to get vaccinated as early as possible, noting that the vaccination programme is already offering more quotas for people to make bookings, and same-day tickets for vaccinations will be distributed to seniors aged 70 or above starting tomorrow.
Elderly people aged 70 or above can collect a same-day ticket in person or authorise their family members or carers to collect the ticket on their behalf. The authorised person should present a copy of the authoriser's Hong Kong identity card for registration.
Mr Nip said as same-day tickets will be distributed daily, it is not necessary for the elderly to queue up at a community vaccination centre too early for a ticket.