HK, Philippines hold webinar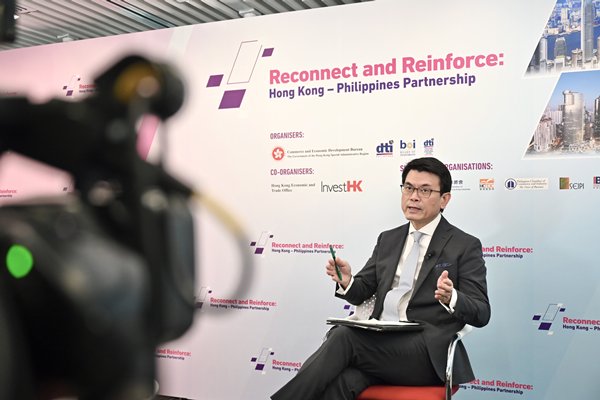 The Commerce & Economic Development Bureau and the Department of Trade & Industry of the government of the Philippines jointly held a webinar today to reinforce collaboration between both places on trade, investment and technology.
Over 550 participants from both sides' business and professional services sectors joined the Reconnect & Reinforce: Hong Kong - Philippines Partnership webinar.
Speaking at the event, Secretary for Commerce & Economic Development Edward Yau pointed out that the Association of Southeast Asian Nations (ASEAN) has been Hong Kong's second largest trading partner for 10 years in a row and its sixth largest source of external investment at end-2019.
He noted that with the unprecedented challenges brought by the pandemic, Hong Kong stands ready to join hands with ASEAN including the Philippines to contribute to the region's economic recovery and development with all its strength.
Mr Yau said Hong Kong will not only continue to serve as a prime platform for ASEAN to expand their economic footprints and connections with other parts of the world, but also remain a close partner for ASEAN businesses and entrepreneurs to embark on new business and investment ventures, especially the opportunities presented by the Belt & Road Initiative and the Guangdong-Hong Kong-Macao Greater Bay Area.
Encouraged by the vibrant startup ecosystem of the Philippines in recent years, Hong Kong with its deep talent pool, improved research and development capabilities, ample funding opportunities and increasingly supportive ecosystem has much to offer to international startup founders, including those from the Philippines, he added.
The commerce chief urged the companies of the Philippines to make use of the Mainland & Hong Kong Closer Economic Partnership Arrangement to tap Mainland business opportunities, especially in the bay area.