District residents get COVID-19 jabs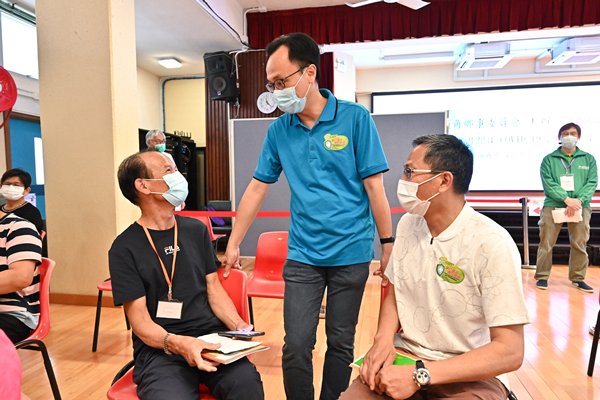 Secretary for the Civil Service Patrick Nip today visited Sha Tau Kok to inspect the administration of Sinovac vaccines to district residents as arranged by the Government's outreach vaccination service.
This is the first time a district organisation has used the outreach vaccination service. About 200 Sha Tau Kok residents, including seniors, got vaccinated.
Mr Nip said: "Sha Tau Kok is located in a closed area with inconvenient external transport. I am grateful to the Sha Tau Kok District Rural Committee for its support for the vaccination programme by actively encouraging and arranging for the elderly in the area to receive vaccination."
He called on various sectors and industries to join the Government in promoting the Early Vaccination for All campaign and encourage people to get vaccinated to build an immune barrier in Hong Kong.
Enterprises and organisations that have a sufficient number of employees to be vaccinated and are able to provide a suitable venue with sufficient space can make use of the outreach vaccination service. They can call 3904 1490 between 9am and 6pm from Monday to Friday.
There has been enthusiastic support for the outreach vaccination programme since its launch, having provided outreach services to the Hong Kong Sports Institute, global professional services enterprises, a property developer, a financial institution, the construction industry and a public transport operator.
The Government is holding discussions with enterprises and groups from various sectors, including post-secondary institutions, public utilities and theme parks on the provision of the service.