Approval of building plans maintained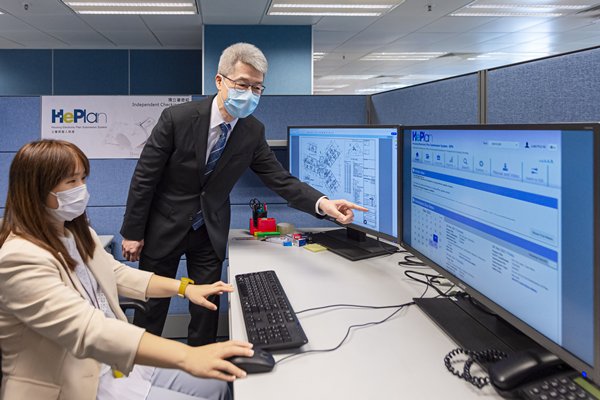 The Transport & Housing Bureau today announced that its Independent Checking Unit (ICU) has maintained services in approving building plan applications under the COVID-19 pandemic by using its self-developed Housing Electronic Plan Submission System (HePlan).
Noting that the HePlan is the first electronic submission, vetting and approval system for building control in Hong Kong, the bureau explained that the ICU, which exercises building control of properties under the Housing Authority (HA) and sold or diverted properties, is the first government department to provide a comprehensive e-service for submission and approval of building plans.
ICU Head Martin Tsoi noted that the HePlan system utilises digitalisation technology which improves the quality of service and efficiency in the approval of building plans.
He said: "Applicants for the HA's new development projects as well as for alteration and addition works at HA buildings may submit electronic plans and related documents to the ICU via an electronic format."
Mr Tsoi added that since the HePlan operates online round the clock, applicants can submit their applications at any time suitable for them and the process will not be affected by special work arrangements under the pandemic.
"We communicate with the applicants through the HePlan directly. The use of the system has effectively reduced social contacts between the applicants and approving officers, enabling the ICU to maintain a high quality of services in approving building control submissions in a timely manner during the pandemic and to fulfil our performance pledge," he stressed.
Mr Tsoi emphasised that the entire HePlan processing procedure is paperless, thus saving applicants much time and effort in carrying bulky plans to the ICU. The unit can also save much storage space for the submitted plans and documents.
Additionally, the HePlan is linked with the Independent Checking Unit Site Mobile System (ICUSMS), another electronic system of the unit.
Launched in May last year, the ICUSMS adopts mobile technology to facilitate site inspections. By linking the two systems, relevant electronic plans and documents can be downloaded directly from the HePlan to mobile devices before site inspections, thereby further enhancing digitisation and operational efficiency of site-monitoring inspections.
The HePlan handled a total of about 3,500 electronic plan submissions and related documents in 2019 and processed about 4,400 submissions last year.
The ICU said it is developing another information technology system to automate the checking of test reports of construction materials, which is targeted to be rolled out by the end of this year.
The system will help with checking the compliance of the test results for 80,000 reports of steel reinforcement and concrete tests received annually through the HePlan so that the efficiency of vetting electronic submissions will further be enhanced.