Chinese medicine services inspected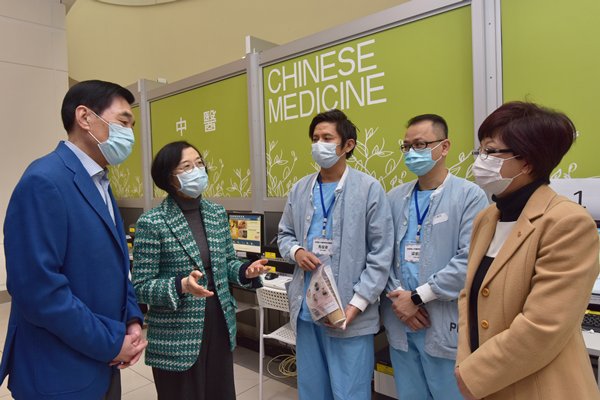 Secretary for Food & Health Prof Sophia Chan visited the Community Treatment Facility (CTF) at AsiaWorld-Expo today to learn more about the operation of the special Chinese medicine (CM) services provided by the Hospital Authority for COVID-19 patients staying in the CTF.
Prof Chan visited the working area dedicated for CM services in the CTF, met the resident Chinese Medicine Practitioners (CMPs) and Western medicine (WM) team, and was briefed on the service's arrangement and workflow.
She also spoke with patients receiving CM services through video calls to gauge their views.
Prof Chan said the Government is committed to promoting the development of CM, which has been incorporated into the healthcare system of Hong Kong.
With the Food & Health Bureau's facilitation and support, the authority provides CM services to patients in the CTF. It provides patients with another treatment option and allows CM to give full play to its strength in the Government's anti-epidemic control efforts.
Since January 26, the authority has provided the Special Chinese Medicine Programme for COVID-19 in-patients at the CTF through the tripartite Chinese Medicine Clinic & Training & Research Centres. Fifty patients have joined so far, with more than 230 consultations conducted.
Patients' participation in the in-patient programme is voluntary. They are clinically assessed by the WM and CM teams to confirm the suitability of receiving treatment under the in-patient programme.
The authority also set up an Expert Panel comprising CM experts in clinical practice and drugs from the schools of Chinese medicine of three local universities, together with medicine, infectious diseases and toxicology experts from the authority, to formulate the clinical protocol for the in-patient programme.
Discharged patients may join the Special Chinese Medicine Out-patient Programme for Discharged COVID-19 Patients to receive follow-up rehabilitation treatment.
Over 850 discharged patients have joined the out-patient programme since its launch last April.