Over 3.4k people tested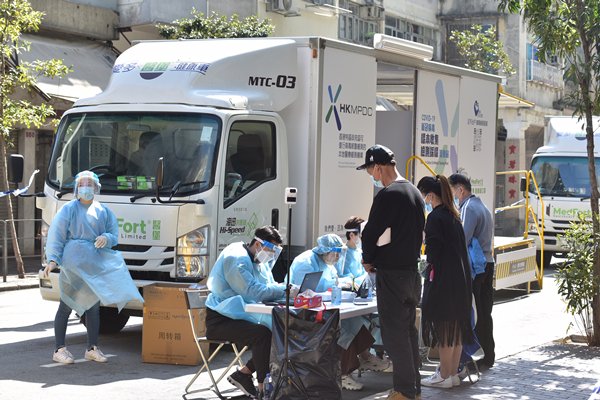 The Government said it arranged compulsory testing for 20 buildings with one or more confirmed COVID-19 cases in Yau Ma Tei today, and over 1,100 residents under compulsory testing notices have undergone testing. More than 2,300 residents also voluntarily got tested.
A mobile specimen collection station at Kwun Chung Sports Centre and mobile specimen collection vehicles located at the section of Canton Road between Jordan Road and Saigon Street have been set up to conduct free testing for residents.
Residents required to undergo mandatory testing may also take the test for free at the testing centre at Henry G Leong Yaumatei Community Centre.
The Home Affairs Department and its Yau Tsim Mong District Office have arranged helpers who speak Nepali, Urdu and other languages to conduct home visits and explain relevant arrangements at buildings covered by the compulsory testing notices.
They distributed information on the compulsory testing notices in multiple languages and registered residents' details to facilitate follow-up on mandatory testing in the future.
Over 440 households were registered today.
Given the epidemic situation, the Government said it understands that residents in the district are worried that the epidemic may spread, adding that the department will arrange cleansing for buildings with one or more confirmed cases.
The Government appealed to people who are under compulsory testing notices to get tested as soon as possible within the period specified in the notices.
Those who fail to comply with the testing notice may be fined $5,000 and will be issued a compulsory testing order requiring them to undergo testing within a specified timeframe.
Offenders who fail to comply with the order are liable to a $25,000 fine and imprisonment for six months.