Belt-Road meeting held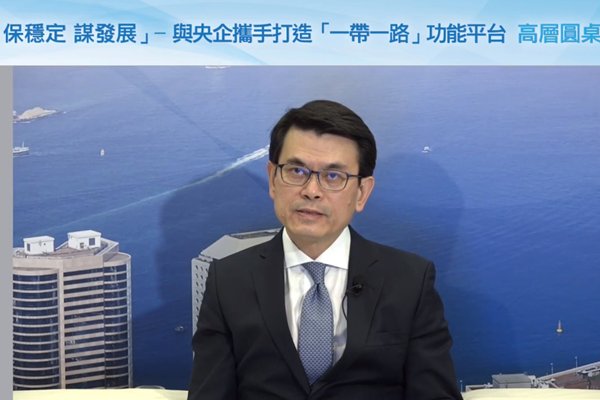 A roundtable meeting on the Belt & Road Initiative was held online today to promote co-operation between state-owned enterprises (SOEs) and Hong Kong's business and professional services sector.
The meeting was joined by more than 100 representatives from 25 SOEs, with nearly 100 enterprises or members from more than 10 professional services bodies in Hong Kong viewing it online.
Speaking at the event, Secretary for Commerce & Economic Development Edward Yau said that Hong Kong, as a comprehensive functional platform for the initiative, is best placed to support SOEs in their Belt-Road projects.
Mr Yau said Hong Kong's power on the financial, legal, and management fronts could go hand-in-hand with the strengths of SOEs.
He added that the city, as the prime functional platform for the Belt & Road Initiative, could support them in investment and financing, logistics, commerce and trade by capitalising on its extensive international networks and strengths in the professional services and innovation and technology.
Noting that the epidemic had led to a new landscape in the international economic and trade arena as well as a new normalcy, Mr Yau emphasised that co-operation of the international community is important to controlling the epidemic and relaunching the economy.
Collaboration among SOEs, Hong Kong's businesses and its professional services sector would provide greater strengths in contributing to the Belt & Road Initiative and create opportunities for advancing development, he added.
Mr Yau urged enterprises of both places and Hong Kong's professional services sector to explore the growing Mainland market with modern, professional and innovative vision, promote Belt-Road collaboration and orderly economic recovery as well as identify new growth areas.
The Commerce & Economic Development Bureau, which jointly organised the roundtable meeting with the State-owned Assets Supervision & Administration Commission of the State Council, said the commission supports the Hong Kong Special Administrative Region on Belt & Road-related work.
The commission has co-organised various sharing sessions with the Belt & Road Office of the bureau since 2018 to build interactive exchange platforms for Hong Kong's businesses and professional services sector as well as SOEs and other Mainland enterprises, it added.