Edward Yau attends APEC session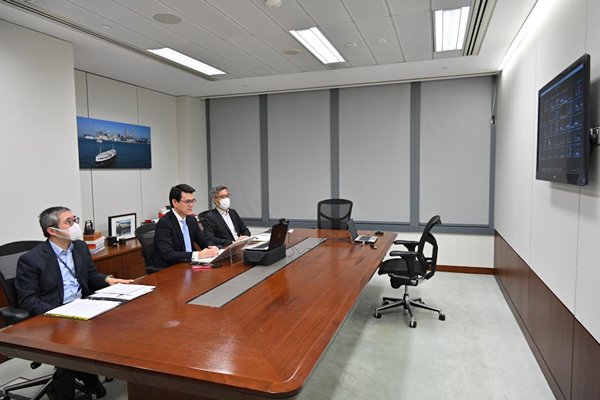 Secretary for Commerce & Economic Development Edward Yau attended the Asia-Pacific Economic Cooperation (APEC) Ministerial Meeting today to discuss global trade issues and regional economic integration.
At the virtual meeting, ministers shared views on support for the multilateral trading system and the World Trade Organization (WTO), responses to the COVID-19 pandemic and economic recovery, and efforts to promote a digital economy.
Mr Yau said the launch of the Regional Comprehensive Economic Partnership (RCEP) is a milestone for economic integration in the region that sends a strong message in support of an open, inclusive and rules-based trade and investment arrangement.
He noted that with the Free Trade Agreements with the Association of Southeast Asian Nations, Australia and New Zealand already in place on top of the Mainland and Hong Kong Closer Economic Partnership Arrangement, Hong Kong is keenly interested in joining the RCEP and stands ready to start dialogue on accession with its member economies when the time is ripe for the RCEP to take on new partners.
At the session on improving the trade and investment narrative, Mr Yau said the economic turmoil brought about by the COVID-19 pandemic and the steep increase in the number of protectionist measures recently had dampened global trade flows and investment sentiment, weakening the collective strength in withstanding the current economic recession.
He called on member economies to redouble their efforts to contain the escalating trade conflicts through engagement and constructive dialogue.
The commerce chief also highlighted the importance of the rules-based multilateral trading system amid the pandemic, with the WTO as its core, in maintaining stability for international trade and bringing back economic growth.
He noted one of the most urgent tasks is to restore a fully functioning multilateral trading system by constructively helping the WTO to reform and improve without grinding its functions to a halt, adding that Hong Kong is committed to constructive dialogue with APEC member economies in supporting the WTO as the city has always done throughout the years.
Mr Yau said APEC member economies should work together to chart the path to post-pandemic recovery in the region, citing the Air Travel Bubble established between Hong Kong and Singapore to resume cross-border people-to-people flow between the two places in a safe and progressive manner.
He added that Hong Kong would continue dialogue with other APEC member economies to expand with full health precautions its air travel bubble network across the region as doing so would open up business opportunities in public health, testing and services in support of the new form of trading in the post-pandemic era.