Meat smuggling syndicate smashed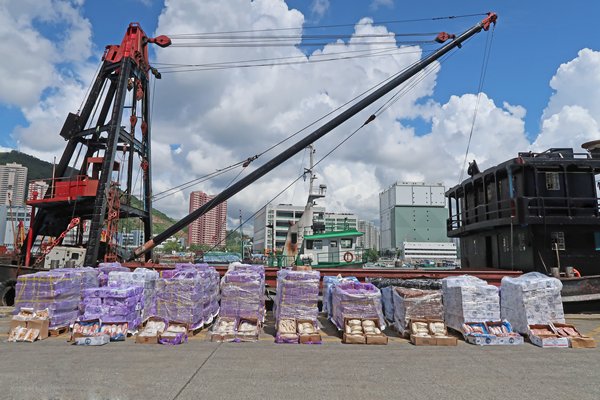 The Customs & Excise Department today announced that it smashed a cross-boundary frozen meat smuggling and money laundering syndicate and seized about $190 million worth of meat and assets involved.
The total value of the items seized is the highest among similar cases in the past five years solved by the department.
In an enforcement action on August 13, customs officers intercepted a barge and a tugboat in the waters off Lung Kwu Chau and seized a batch of smuggled frozen meat on board the barge.
After a follow-up investigation, the officers raided 13 premises across Hong Kong, including residential premises, offices, a wharf and a container yard.
Thirteen people, aged between 40 and 65, were arrested in connection with the case. They included the syndicate mastermind and directors of the companies involved.
The seized frozen meat, weighing about 160 tonnes, carries an estimated market value of $25 million. Assets of the syndicate worth about $18 million were also seized, including cash and valuables.
The department has made arrangements to freeze $27 million in deposits at 76 bank accounts held by the syndicate members.
It noted that it is also pursuing an investigation into the aspects of money laundering and criminal proceeds according to the Organized & Serious Crimes Ordinance.
Upon conviction, it will consult the Department of Justice and apply to the court for confiscation of eight properties and three parking spaces under the syndicate members' names worth about $120 million.
Members of the public may report suspected smuggling or money laundering activities to the Customs' hotline 2545 6182 or email [email protected]