Health expert inspects markets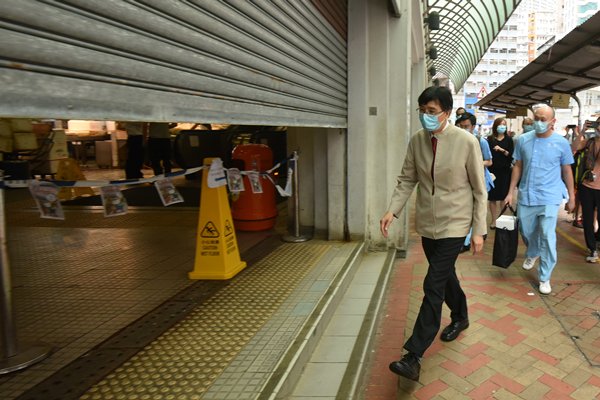 Hong Kong University Chair of Infectious Diseases Prof Yuen Kwok-yung inspected Hung Hom and To Kwa Wan markets today in view of recent COVID-19 cases found to be related to these facilities. Both markets will suspend operations on August 5 and 6.
The Government invited Prof Yuen to inspect the markets and offer advice on anti-epidemic measures.
The Food & Environmental Hygiene Department said environmental swabs were taken at the two markets for testing.
As the testing work needs time to complete, the two markets will suspend operations for two days.
The department will thoroughly clean and disinfect the two markets during the suspension period.
It added that about 20 markets in various districts had been arranged to close an hour earlier in the past few weeks for additional deep cleaning and disinfection.
For markets related to COVID-19 cases, the department pointed out that it immediately cleaned and disinfected areas that patients had used and arranged for these markets to close earlier for deep cleaning and disinfection.
The department has also arranged a voluntary one-off free COVID-19 testing service for market workers. It has been distributing specimen bottles to markets with confirmed cases, involving market stall operators and personnel.
It appealed to market stall tenants to actively participate in the testing, wear masks, and maintain personal and environmental hygiene.