More markets to be disinfected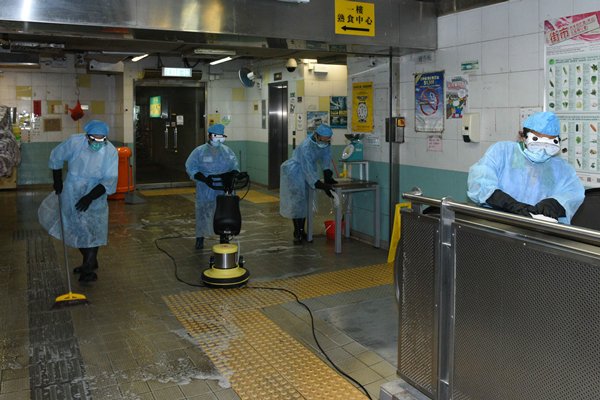 In view of the recent severe COVID-19 situation, the Food & Environmental Hygiene Department (FEHD) announced that has further enhanced anti-epidemic measures in its markets and will progressively arrange deep cleaning and disinfection for all public markets.
The department explained that it is stepping up anti-epidemic measures to safeguard the health and safety of market stall tenants and the public.
With the full support of the Electrical & Mechanical Services Department (EMSD), a body temperature checking system has been installed in six FEHD markets in Kowloon with high patronage rates.
They include Ngau Chi Wan, Ngau Tau Kok, Hung Hom, Pei Ho Street, Tai Shing Street and Tai Kok Tsui Markets.
The FEHD will progressively install body temperature checking systems in other markets with high patronage rates and has arranged body temperature checks of market patrons by FEHD staff using hand-held thermometers.
In addition, the FEHD is liaising with the EMSD to improve air ventilation in some markets and purchase standalone air coolers for other markets as soon as possible in regard to circumstances on the ground.
To further enhance cleaning and disinfection work in its markets, the FEHD will arrange for the 12 public markets on Hong Kong Island, in Kowloon and the New Territories to be closed an hour earlier at 7pm for deep cleaning and disinfection in the coming few days.
The same arrangement for some 20 markets was carried out in the past two weeks.
Meanwhile, in view of a newly confirmed COVID-19 case found to be related to Hung Hom Market, the FEHD has immediately cleaned and disinfected the areas the patient used.
The market closed an hour earlier today at 7pm to carry out such procedures.