CS inspects new quarantine units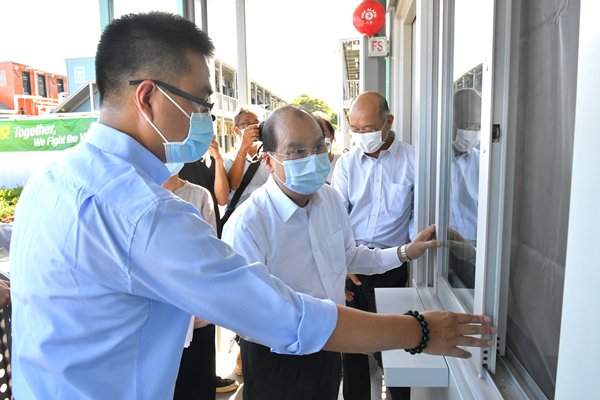 Chief Secretary Matthew Cheung today inspected the construction progress of the new quarantine facilities at Penny's Bay, where about 800 units will be available before the end of the month.
Accompanied by Secretary for Development Michael Wong, Mr Cheung was briefed on the construction progress, the use of the modular integrated construction method to speed up construction and the effective monitoring of construction with the help of drone inspections.
He noted that among the 800 units, the first batch of 100 units has already been handed over to the Department of Health and the second batch of 700 units has just been completed.
As for building quarantine units at another Penny's Bay site originally reserved for future tourism development, relevant construction started at the end of June. About 700 additional units are expected to be available before the end of September.
Noting that the provision of quarantine facilities is a very significant task of the Government's strategy for keeping the epidemic in check through early identification, isolation and treatment, Mr Cheung said the Government will continue to closely monitor developments and deploy quarantine facilities in light of the actual situation.
He also stressed that given the epidemic's rapid and volatile development, the community must stay vigilant. At the same time, the Government will keep up its anti-epidemic effort under the three key principles of responding promptly, staying alert to the situation and working in an open and transparent manner.
He added that with a number of local cases with unknown sources of infection detected over a short period recently, the Government has promptly adjusted epidemic control measures on different fronts.
He reminded people not to lower their guard under any circumstances and appealed to them to keep up their good practices in personal and environmental hygiene.
The Chief Secretary also met young graduates and professionals of the construction industry who worked on the new quarantine facilities.
To deal with the rising unemployment rate in the industry, Mr Cheung pointed out the Government earlier announced that salary subsidies would be provided to employers through the Anti-epidemic Fund to support and encourage them to employ graduates and assistant professionals.