Rhino horns seized at airport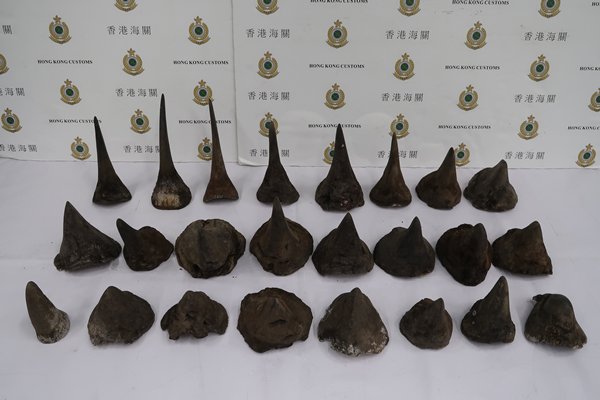 Customs officers today seized 40kg of suspected rhino horns worth about $8 million at Hong Kong International Airport, a record for rhino horns seized from arriving air passengers.
Two men, aged 28 and 33, were arrested.
Officers intercepted them when they arrived at the airport from Johannesburg, South Africa and found the suspected rhino horns in their two check-in carton boxes. They were planning to transit to Ho Chi Minh City, Vietnam, by air.
Penalties under the Protection of Endangered Species of Animals & Plants Ordinance increased drastically from May 1 of last year to provide a stronger deterrent against the smuggling and illegal trading of endangered species.
Any person importing, exporting or possessing specimens of endangered species not in accordance with the ordinance will be liable to a maximum fine of $10 million and a 10-year prison sentence.
On February 8, two people were sentenced to 16 months in jail by the District Court for smuggling 24kg and 17kg of agarwood.
It was the heaviest sentence handed down so far for illegal import of endangered species under the present ordinance.