HK, Mainland sign I&T pact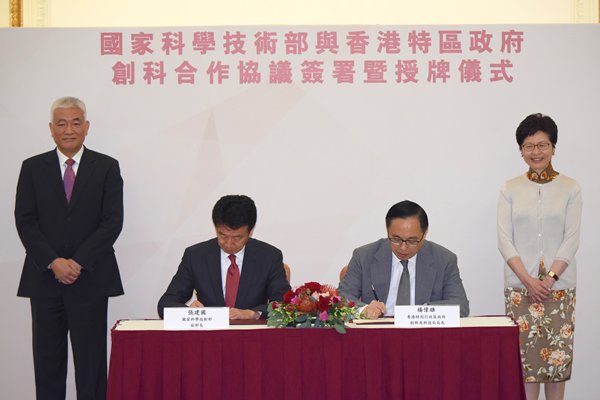 Chief Executive Carrie Lam today witnessed the signing of the Arrangement on Enhancing Innovation & Technology Co-operation between the Mainland and Hong Kong.
She was joined by Minister of Science & Technology Wang Zhigang.
The agreement was signed by Secretary for Innovation & Technology Nicholas Yang and Vice Minister of Science & Technology Zhang Jianguo.
The Ministry of Science & Technology (MOST) and the Innovation & Technology Bureau also signed an agreement on commencing jointly funded projects.
A plaque presentation ceremony by Mr Wang followed to mark the renaming of the 16 Partner State Key Laboratories in Hong Kong into State Key Laboratories from today, giving them more flexibility to collaborate with different research and development institutions.
The ministry also announced that it would entrust SenseTime Group, founded in 2014 by a number of local scholars, to establish the National Open Innovation Platform for Next Generation Artificial Intelligence on Intelligent Vision.
Mrs Lam expressed her heartfelt thanks to the ministry for its unfailing support for I&T development in Hong Kong.
"The arrangement and the agreement signed today mark a new page of scientific and technological collaboration between the Mainland and Hong Kong. The presentation of plaques to State Key Laboratories is also of great significance, as this would provide more flexibility for the collaboration between the State Key Laboratories of Hong Kong and the research institutes in the Mainland. It also means solid support and recognition.
"Moreover, the recognition given to our home-grown unicorn by MOST in moving forward the national development and planning for the next generation artificial intelligence is also a vote of confidence in Hong Kong's strengths in I&T."
The Chief Executive met Mr Wang before the signing and plaque presentation and hosted a lunch for the ceremony's guests afterwards at Government House.