Business & Finance
Mainland visitor numbers fall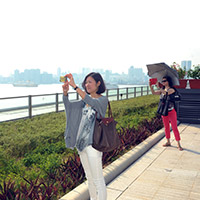 (June 05, 2014)
The number of Mainlanders visiting Hong Kong during the recent Tuen Ng Festival dropped 2.5% on last year, after increases in previous years.
Secretary for Commerce & Economic Development Gregory So told reporters today the number of Mainland visitors grew 60% year-on-year in 2010, and the year-on-year increases were over 20% for the next three years. 
He said a reduction in Mainland tourist numbers will affect the economy and employment, so the Government is gauging views from the business sector and the general public to formulate a solution. 
"I believe the community will have to make an informed decision with these objective facts confronting them, how we are going to approach this together. The Government and the people are one, and we need to do this together," he said.