CE explains Wang Chau plan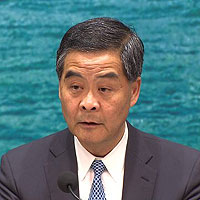 (September 21, 2016)
Chief Executive CY Leung said he had made the decision to develop the Wang Chau public housing programme in phases. 
Mr Leung, together with Financial Secretary John Tsang, Secretary for Transport & Housing Prof Anthony Cheung and Acting Secretary for Development Eric Ma, explained the Wang Chau plan at a press conference today. 
He said he alone chaired the taskforce for the development of Wang Chau and Queen's Hill, which are very huge sites providing very rare opportunities for a large scale of public housing development. 
He said he had not taken part in any of the consultation with or the lobbying of anyone outside of the Government. 
However, he was informed at the top official meeting that there were objections from the local communities for the huge development in Wang Chau. Therefore he agreed to carry out the first phase of the Wang Chau project which will provide about 4,000 units. 
He said: "This was my decision-the decision to carry out the development of the public housing programme in phases. Because as the CE, the Chief Executive of the Government, I have to take charge." 
Mr Leung reiterated there is no plan to scale down the Wang Chau development and the Government will carry out the technical study of phase II and III of the project.