At School, At Work
Primary school classes to resume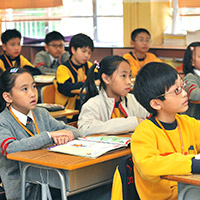 (October 06, 2014)
Principal Assistant Secretary for Education Sophia Wong says primary school and special school classes in Wanchai and Central & Western districts will resume tomorrow. 
She said at a press conference today the Education Bureau made the decision after class resumption at secondary schools ran smoothly today. She called on students to avoid protest areas. 
The bureau has reminded schools to deal flexibly with students who are late or absent from classes. 
Assistant Commissioner for Transport Albert Su said the department had liaised with schoolbus operators for the class resumption arrangement. 
Director of Administration Kitty Choi said that Central Government Offices had not yet resumed normal operation due to Occupy Central. She called on protesters to leave more aisles to access the building. 
Under Secretary for Home Affairs Florence Hui noted that it is difficult to count the economic losses and intangible impacts on Hong Kong's international reputation that the Occupy Central movement has caused.