Business & Finance
Financial system unaffected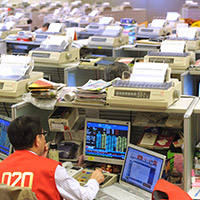 (October 03, 2014)
Financial Secretary John Tsang said that financial systems remain normal during Occupy Central protests and Government departments and financial institutions have launched contingency plans to minimise the protests' impact.  
Speaking to reporters today, Mr Tsang said that overall, the stock market, foreign exchange market and the financial system are operating smoothly. 
He noted that the banking system and the currency board system have been functioning normally as well, but some bank branches and ATM machines have suspended services due to blocked roads. 
Mr Tsang stressed that the local financial market can handle the protests' impact in the short-term, but a prolonged protest would adversely affect it, which could damage the city's standing among international investors. 
He also warned of market volatility in the near-term and urged investors to be mindful of the risks, while vowing that the Government would monitor the market situation closely.