Teresa Cheng outlines key trends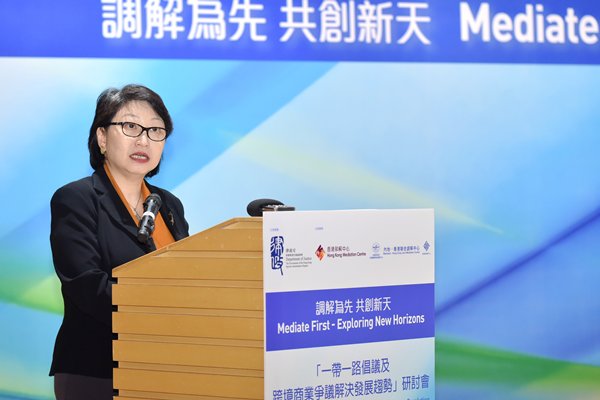 Secretary for Justice Teresa Cheng today outlined new trends in cross-border commercial dispute resolution.
Ms Cheng was speaking at the Seminar on the Trend of Cross-border Commercial Dispute Resolution & the Belt & Road Initiative, a Mediation Week 2018 event.
She talked about the key trends of mediation in investment disputes, online dispute resolution and the establishment of a dispute resolution centre specially designed for the initiative.
Ms Cheng said under the Mainland & Hong Kong Closer Economic Partnership Arrangement framework, the Hong Kong Special Administrative Region Government signed an Investment Agreement with the Ministry of Commerce last June.
It provides an investment mediation mechanism to settle disputes.
Ms Cheng said: "Innovative technology has greatly helped the development of dispute resolution services."
She added Hong Kong is establishing the online dispute resolution platform, eBRAM.hk.
The Department of Justice will also establish a dispute resolution centre for the Belt & Road Initiative to provide services for state-owned enterprises and small and medium-sized enterprises from various countries.
This year's Mediation Week, with the theme of Mediate First - Exploring New Horizons, looks at resolution in online and international commercial disputes.
Its highlight is the Mediation Conference 2018 to be held on May 18.
Click here for details.