Admin & Civic Affairs
CE meets Jiangxi Governor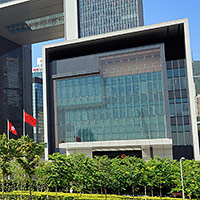 (May 27, 2015)
Chief Executive CY Leung met Jiangxi Governor Lu Xinshe today at Government House. 
Mr Leung said Hong Kong, being an international financial and trade centre, can act as a "super-connector" and provide an excellent platform for Jiangxi enterprises to go global and attract investments. 
Noting that both Hong Kong and Jiangxi belong to the Pan-Pearl River Delta provinces and regions, the Chief Executive said he hopes the two places continue to make use of the platform to strengthen exchanges and co-operation.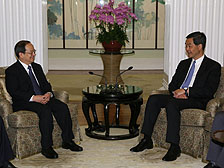 Delta discussion:  Chief Executive CY Leung talks with Jiangxi Governor Lu Xinshe at Government House.