Disinfectant alcohol advisory issued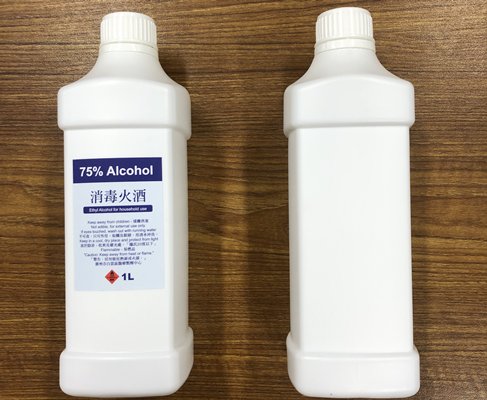 Customs today seized a total of 174 bottles of disinfectant alcohol with a false description of its composition.
The department had earlier received information alleging that a pharmacy in Tuen Mun was selling this disinfectant alcohol.
Customs officers then bought a disinfectant alcohol that was labelled as "75% ethanol" at the pharmacy.
The disinfectant alcohol was being sold in white plastic bottles labelled as 1 litre and sold at a price of $98 per bottle.
Samples were sent to the Government Laboratory and the test results revealed that it consisted of less than 0.1% of ethanol while its methanol content reached 52%.
The results also showed the actual volume of the bottle to be only 737 milliliters.
The disinfectant alcohol's composition was different from the product's description, in contravention of the Trade Descriptions Ordinance.
Customs officers today searched a pharmacy group's office in Tuen Mun and its 20 branches located at various districts, where the 174 bottles of disinfectant alcohol were seized.
A director and six sales staff of the pharmacy, aged 24 to 43, were arrested.
The department noted methanol is a type of organic solvent which is harmful to the human body and might cause blindness or even death if accidentally eaten or misused.
It appealed to members of the public to stop using that type of disinfectant alcohol and for traders to remove the products from shop shelves as well.
Customs officers also checked 236 retail spots in various districts and no such products were found for sale.