FS visits Luxembourg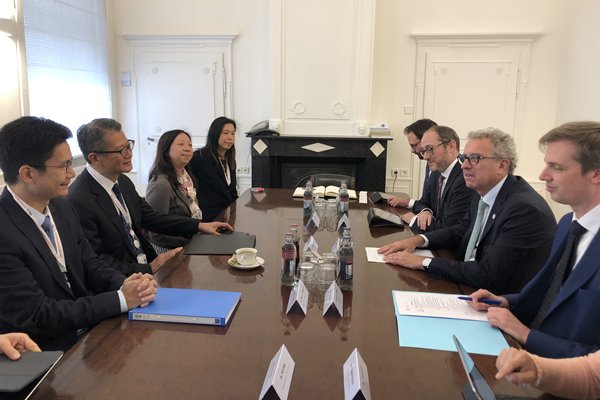 Financial Secretary Paul Chan met Minister of Finance of Luxembourg Pierre Gramegna in Luxembourg yesterday.
They discussed closer co-operation on mutual recognition of funds between Hong Kong and Luxembourg.
Mr Chan welcomed more offshore funds to expand business in Hong Kong, noting the city is one of the leading international wealth and asset management centres in Asia.
The agreement with Luxembourg on mutual recognition of funds has boosted the fund industry in both places, he added.
Mr Chan also briefed Mr Gramegna on the latest green finance in Hong Kong development, including the first batch of green bond issued by the Hong Kong Special Administrative Region Government in May.
He said he looks forward to promoting green finance and facilitating related cross-border investment with Luxembourg.
The Financial Secretary attended the Asia Infrastructure Investment Bank (AIIB) reception and will take part in today's Annual Meeting of the AIIB.