CE meets Mainland official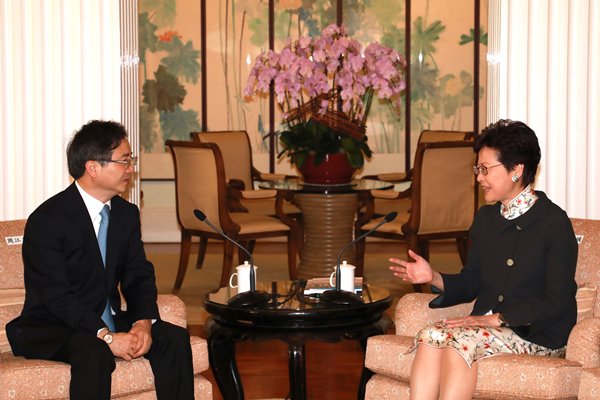 Chief Executive Carrie Lam met the Standing Committee Member of the CPC Zhejiang Provincial Committee, Secretary of the CPC Hangzhou Municipal Committee Zhou Jiangyong at Government House today.
Mrs Lam welcomed Mr Zhou and his delegation, who are attending a promotion activity by the Hangzhou Municipal Government on economic and trade co-operation, culture and food to be held in Hong Kong on September 17.
After visiting Hangzhou last August, Mrs Lam said she was deeply impressed by the city's rapid development in recent years, particularly in the areas of e-commerce, innovation and technology, and smart city.
She noted that with the successful hosting of the G20 Hangzhou Summit in 2016 and the Asian Games to be held in Hangzhou in 2022, the city's international status is rising.
Mrs Lam said Hong Kong and Hangzhou have always been close and share a lot of similarities with very active private enterprises in both places.
Coupled with the vibrant development of I&T and creative industries in Hong Kong, she said there is lots of room for collaboration between the two places.
On measures rolled out by the Central Government to facilitate Hong Kong residents to live, work and study in the Mainland, Mrs Lam hoped it would boost more exchanges between young people in both places.
She also hoped the measures will help Hong Kong youths, who aspire to develop in I&T and creative industries, to identify opportunities for development in Hangzhou.