Nicholas Yang visits Kwun Tong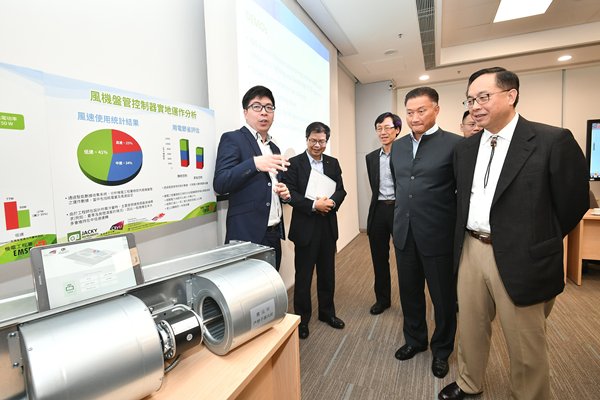 Secretary for Innovation & Technology Nicholas Yang toured the Electrical & Mechanical Services Department Headquarters and a financial technologies innovation lab during his visit to Kwun Tong today.
At EMSD Headquarters, Acting Director of Electrical & Mechanical Services Tai Tak-him briefed Mr Yang on the application of innovation and technology to enhance the department's services, pushing forward smart city development and supporting commercialisation of the R&D results of local enterprises.
He watched project demonstrations by the department, public organisations, universities and startups.
They included a remote monitoring system, a smart thermostat for central air-conditioning systems, passive LED lighting technology, video analytics on passenger flow for lift operation optimisation, and the Safematics Smart Safety System.
He visited fintech innovation lab eXellerator in Standard Chartered Tower, which brings together different departments of the bank, clients and startups to enhance user experience with fintech.
Mr Yang called for collaboration between the innovation lab and the Cyberport fintech community.
Citing Cyberport as the largest fintech cluster in Hong Kong with over 250 fintech startups, Mr Yang said promising solutions can be found there.
He later met Kwun Tong District Councillors.