FS visits Sham Shui Po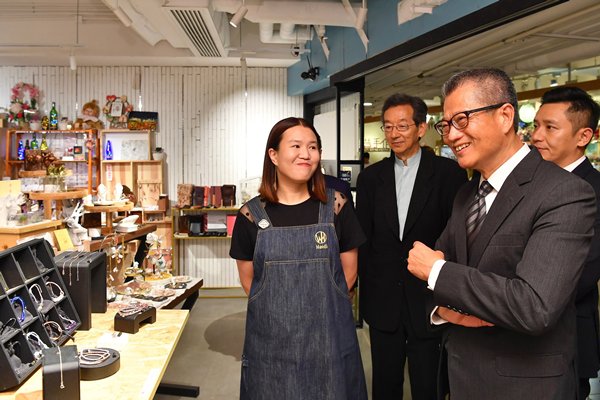 Financial Secretary Paul Chan today toured a factory building in Sham Shui Po that has been converted to support local arts.
The Jockey Club Creative Arts Centre was formerly a factory estate. It now nurtures local creative talent and promotes arts and culture by providing studios, and display and performance venues.
About 140 artists and organisations from different art disciplines are based in the centre. Mr Chan met several of the artists during his tour.
He then visited D2 Place, a project under the Scheme on Revitalisation of Industrial Buildings which supports local startups and entrepreneurs in developing businesses by offering lower rents and support for their operations and marketing.
It also provides a shared space for startups and creative work through the Space Sharing Scheme for Youth.
Mr Chan said the Government is committed to supporting the development of the city's creative industries, adding it will inject $1 billion into the CreateSmart Initiative in 2018-19.
The fund injection will help startups and youths. It will also boost the Hong Kong Design Centre's initiatives in enhancing public understanding in the value of creativity and design.
Mr Chan also met Sham Shui Po District Councillors.