Nicholas Yang tours Wong Tai Sin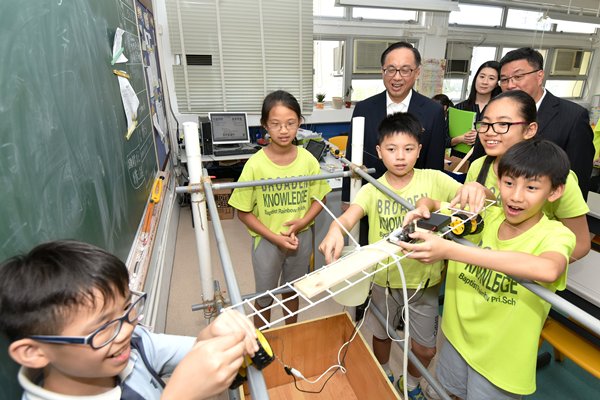 Secretary for Innovation & Technology Nicholas Yang visited Wong Tai Sin today, touring a primary school and Wong Tai Sin Temple.
He went to Baptist Rainbow Primary School and watched students participate in self-directed project-based learning activities.
The school integrates science, technology, engineering and mathematics (STEM) education in its school-based curriculum and has implemented the DreamStarter programme.
He then went to Wong Tai Sin Temple where he was briefed on the e-services adopted to assist worshippers through the application of technology.
These include green worshipping at the Taisui Yuenchen Hall with the use of sensors, online prayer, online enquiry on fortune-telling sticks and one's "tai sui" of birth as well as Chinese zodiac sign.
Sik Sik Yuen, which administers Wong Tai Sin Temple, runs a mobile application that enables visitors to enjoy GPS navigation and information on the temple's architectural features by scanning QR codes or NFC chips.
A counting machine has been developed to ensure there are 100 fortune-telling sticks in every stick holder.
Mr Yang also toured the Sik Sik Yuen Biotechnology Mobile Laboratory which was built on a bus chassis.
Students can learn about microbiology, biochemistry, DNA and genetics through hands-on experiments at the MobileLab which travels to primary and secondary schools in Hong Kong on weekdays.
Mr Yang thanked Sik Sik Yuen for working with the Government in promoting science in the community, saying the application of technology and the promotion of popular science is equally important.
Wrapping up the visit, he met Wong Tai Sin District Councillors.