Quality education expo opens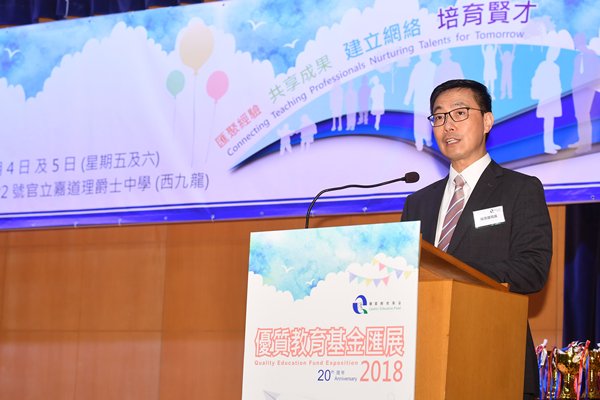 Secretary for Education Kevin Yeung today opened a two-day event celebrating the Quality Education Fund's 20th anniversary.
The Quality Education Fund Exposition 2018 is being held on May 4 and 5, featuring activities under the theme "Connecting Teaching Professionals, Nurturing Talents for Tomorrow".
Mr Yeung said in the past 20 years the fund has allocated $4.5 billion to support various projects and organised professional development activities, set up quality school networks and shared fruitful results with the education sector to facilitate professional exchanges and push forward a culture of quality education.
He encouraged schools and teaching professionals to apply for resources from the fund to realise their ideas, try out new curriculum and teaching methods, introduce student support measures more comprehensively for learning and teaching as well as school improvement projects.
Mr Yeung thanked the fund's steering committee for responding positively to the Government's proposal to allocate $3 billion to launch school-based curriculum development and student support measures, as well as school improvement works and procurement of supplies.
He hopes schools make use of the resources to start school-based projects to refine their curriculum and student support measures.
Mr Yeung also presented prizes to winners of an e-memoir cover design competition and poster design competition held as part of the fund's 20th anniversary celebrations.
Teachers, parents, students and the public are welcome to visit the expo, which covers a keynote speech on 21st century quality education, project booth displays and sharing sessions.
Click here for details.