Law Chi-kwong visits Southern Dist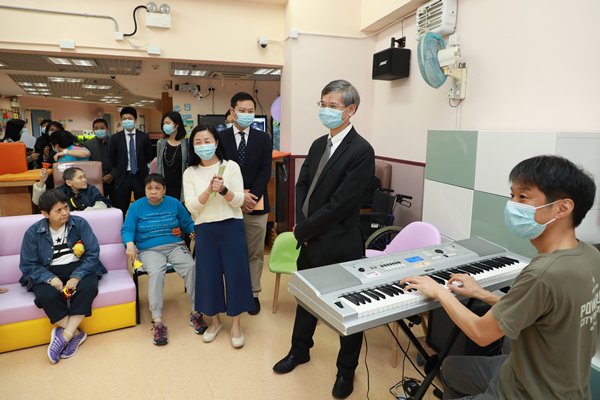 Secretary for Labour & Welfare Dr Law Chi-kwong visited Southern District today to see an integrated rehabilitation service centre for the disabled.
Joined by Under Secretary for Labour & Welfare Caspar Tsui, Dr Law went to the TWGHs Jockey Club Rehabilitation Complex in Aberdeen, the largest rehabilitation centre in Hong Kong with over 1,800 service places.
It provides residential, day care and training, vocational rehabilitation and community support to those who are physically or mentally handicapped, visually impaired, as well as ex-mentally ill people and their families.
At the centre, he toured a social enterprise, an exhibition of artworks by mentally handicapped people and a convenience shop run and managed by the disabled.
Dr Law said the Government is committed to promoting the employment of disabled people, noting post-placement follow-up services in vocational rehabilitation service units will be strengthened in 2018-19.
A sum of $250 million has been proposed as capital for a new fund to provide resources to foster the artistic development of the disabled to enhance social inclusion, he added.
Dr Law also toured facilities for the severely disabled, visually impaired seniors and mentally handicapped seniors at the centre.
He said the Government is very concerned about the care needs arising from ageing mentally handicapped and disabled people, noting additional resources will be allocated to strengthen care and support for them in this financial year.
Recurrent expenditure on rehabilitation services in 2018-19 will increase to $34 billion, he said, adding the first stage public consultation on the formulation of a new Rehabilitation Programme Plan is being conducted.
Prior to the visit Dr Law met Southern District Councillors.